VIZAĜO met the world on Kickstarter on the 30th of May and has found plenty of support throughout the campaign. Despite not making it across the line, I'm really pleased that so many people came on board and decided to support my colourful deck of cards.
Having lived with this project for so long (and really wanting to see the cards printed) I truly believe VIZAĜO deserves a second chance at funding… Which is why I have decided to cancel the current project and relaunch!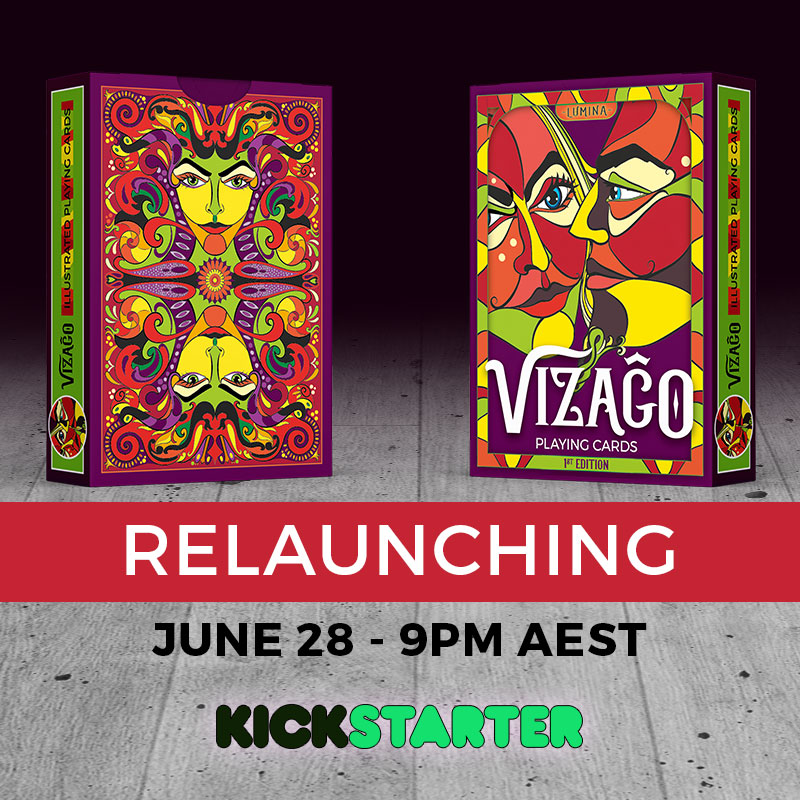 Why relaunch?
Kickstarter is a huge platform and according to statistics, considerably less than 50% of projects actually reach their funding goal. On one hand this can seem daunting (it is), but there are also many things to be positive about: The fact that over 170 people pledged support for VIZAĜO is worth a proper song and dance. That so many reached out and offered encouragement and advice is worth fanfares and streamers :)
I believe that a second wind incorporating the things I've learnt over the past few weeks, will give VIZAĜO a proper chance of funding.
What's different in the new campaign?
I spent the past week going over figures, consulting backers and talking to the printer about possible changes to help me lower the funding goal, without compromising on the important bits. Changing from the synthetic tuck box to Legends standard tuck box made a big difference in the funding needed to print this deck. A few more adjustments and here are the features of the new campaign:
Lower Funding Goal = $11,000 AU
Lower single deck price = $17 AU
1st Edition (shown on tuck box) – limited print quantity
Standard tuck box – which has a nice semi-matte finish
Lower stretch goal for the blue deck
Early Bird decks up for grabs (1, 2, 6 and 12 deck options)
2 bundle rewards with deck(s) and postcard print pack
I hope to see you at the launch as this exciting journey continues!
All the best,
Annette :)