Exhibiting artwork is about communication and connection.
A number of the exhibitions below are listed on the Art in Sync Website (home to the artist group I am part of), where you can find more information about the artworks and artists.
Five Colours Blue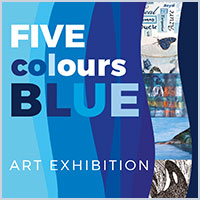 Group exhibition – 8th – 30th October 2019, The Art House, Wyong
Five Colours Blue, investigates blue, both as a colour and as a concept.
Visually, the word blue conjures up images from the natural world: sky, sea, mountains… while on an abstract level, blue associates and connects with mood, music, and emotions.
---
As in a Mirror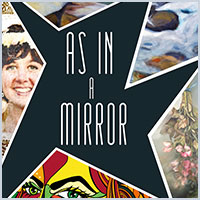 Group exhibition – 3rd – 29th March 2018, The Art House, Wyong
The artworks in this exhibition examine the idea that between the reality of a thing and our perception of it, there is always distortion.
All impressions, visual and otherwise, are filtered through the mirror of our experience, our individuality and our psyche.
---
Water Lines II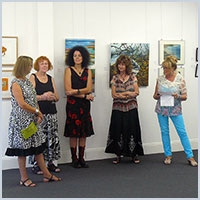 Group exhibition – 1st April – 1st May 2016, CStudios Gallery, Newcastle
This exhibition investigates water from many different perspectives and looks at water not only as a dimension – in, on and under – but also at its crucial situation in today's world. Fluid and temporal, water takes on many shapes and forms – from soft gurgling creeks to looming ocean waves. View some of the exhibited works in: Pen & Ink Drawings.
---
Water Lines I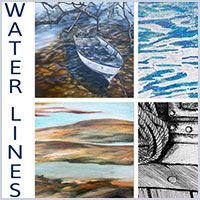 Group exhibition – 17th – 23rd December 2015, Studio Gallery, Gosford Art Gallery
Water Lines celebrates the many different aspects of water, filtered through a variety of influences and interpretations. The artworks, comprising a range of media (painting, printmaking, drawing and textiles), are intended to provoke thought but, most of all, to inspire.
---
Ebb and Flow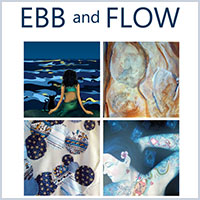 Group exhibition – 14th – 24th November 2013, Studio Gallery, Gosford Art Gallery
Reflecting on both the metaphorical and the literal significance of ebb and flow, be it in the movement of the tides or in the fluctuation of life itself, the works in this exhibition seek to give a visual voice to change and displacement. This exhibition coincided with my launch of Nine Lives Tarot; the complete 78 card deck and selected framed prints.
---
Being Human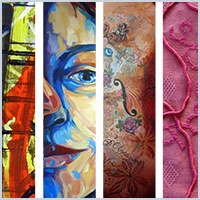 Group exhibition – John Paynter Gallery, The Lock-Up: Newcastle 2012
This exhibition explored the essence of being human from each artist's perspective and point of view. To me, an intrinsic part of being human is our ability to feel, recognise and connect, through reading and understanding the emotional landscape of a face…
---
The Sketchbook Project Limited Edition Vol. 1
Collaborative project – Art House Co-op, Brooklyn NY 2012
The Sketchbook Project Limited Edition Vol. 1 is a collaborative series of art books created by 5,000 artists from around the world. Each sketchbook is archived by the Brooklyn Art Library who also publish the limited edition book series. Filling a new sketchbook is always a treat – especially when you have an inspiring project attached to it. I based the drawings in my sketchbook around the theme: Every picture tells a Story…
---
Music From A Farther Room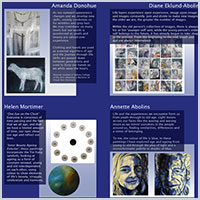 Group exhibition – Gosford Regional Gallery, 2009
A group exhibition, which evolved over a two-year period in conjunction with Gosford Regional Gallery. The exhibition investigates many different perspectives of ageing and the relationship between youth and age. Light moves across our faces like the waxing and waning moon as we mirror ourselves in the people around us, finding similarities, differences and a sense of belonging.
---