If you have visited here before, you'll know I love cards (both Tarot and Playing cards). Having just published my second deck, I feel I'm still at the beginning of a most inspiring journey, which I hope will lead to many more cards in the future.
In this post I want to share some of my thoughts and inspiration behind why I like cards so much, and maybe inspire you to look at them in a new way :)
Alongside painting and drawing for 'art sake' – I have long gravitated towards making art that has an element of 'use'. Combining artistic expression, story-telling and imagination with craftsmanship to create art with a practical use is, I think, about the desire to create art that can become a treasured part of daily life …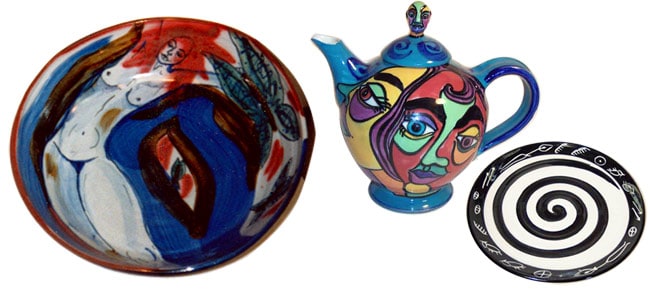 From my clay days: Wheel-formed large bowl, teapot & platter
After spending 15 years making functional, artistic wares from clay, I found my way back to two-dimensional art where a world of cards was waiting …
Treasures in Decks of Cards
A deck of cards is small, compact and easy to take anywhere you like, always ready to occupy your hands and eyes. Some decks go places every day (I have a deck that lives in my bag, so it gets to move around quite a lot),  others are happy to be brought out on special occasions. Some have sentimental value attached from years of use, or from being handed down from generations past. Collecting cards can be a growing treasure – they don't take up much space (unless you have a zillion decks), and a whole range of different decks on display can look quite amazing …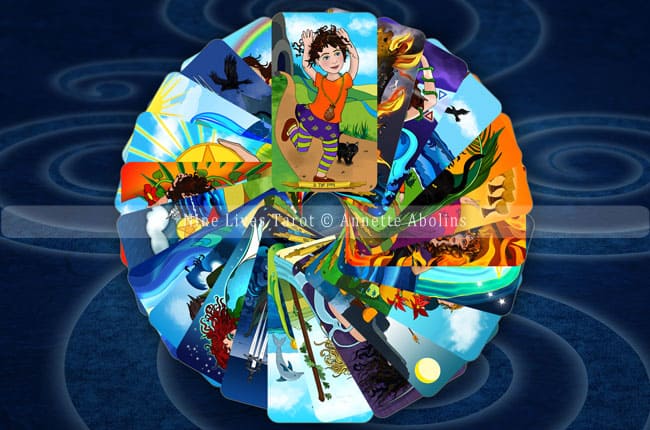 Looking at Pictures
You have a visual feast at your finger tips: 52, 78 or a different number of cards, where each one can be an artwork in its own right. You can lay all the cards out in front of you and look at the deck as a whole – or you can spend time studying each individual picture. The cards might tell stories, be beautifully inspiring, or be simply meditative to look at …
Play, Read, Entertain and Dream …
There are plenty of uses for a deck of cards, whether you play, read, do tricks, ponder their meaning or the luck of your next hand – cards have kept us occupied and entertained for centuries. Tarot and Playing cards are famous for shortening long journeys, breaking the ice and making new friends. They can play centre stage in a serious game, or act as a distraction; enabling an important (or difficult)  conversation to take place … Cards can cross language barriers and help find common ground, which is pretty big for small pieces of printed paper :)
Artwork and Card design
Tarot and Playing cards have deep wells to draw inspiration from, old systems, each with their own distinct visual languages. Familiar frameworks with room for re-interpretation, which is where inspiration and imagination comes in. Creating an entire deck takes time (a lot of time), though it is an enjoyable and rewarding process filled with hours and hours of drawing, painting and designing. Completing the deck, or bringing it all together, is to me about finding a happy balance between art and usability … along with finding the perfect placement for all those numbers, letters and symbols that have come out to play.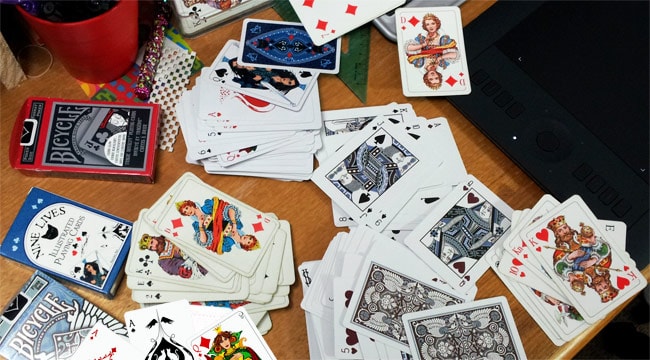 Piles of cards jostling for space on my desk – I like to have physical cards on hand  :)
Poker size Deck Coming up …
I'm currently working on a Poker size version of Nine Lives Playing cards, which I plan to enter in the 2nd Annual PCF Design Contest – hosted on playingcardforum.com
Voting will take place between 12 – 14 August – anyone who registers on the forum can vote :)
Playing Cards are made in range of different sizes (jumbo, mini, poker, bridge, custom, odd shapes… ), though the main sizes are Poker and Bridge. Depending on where you live – and what you use cards for, you will be likely be familiar with one or both of these card types. I grew up around bridge size cards – in fact, I thought of them as 'standard' :) – More recently, I've come to know the Poker size cards, which are 6mm wider than the standard Bridge size. The card type names refer only to the size of the card – they don't mean that a deck can only be used for playing poker or bridge, though some will tell you the narrower cards are better for games where players need to hold more cards :)
Playing cards are often released in multiple versions or editions … the most common (I believe)  is having different coloured backs, though many come in 'deluxe' versions with foiled edges, embossing or other fancy things … and then there's the different sizes, which seemed just right for Nine Lives. I like the number 3, and I think a poker size deck will compliment both the tarot deck and the bridge size cards in the Nine Lives series: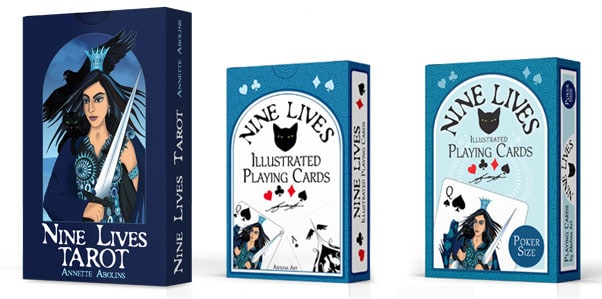 You can see previews of the poker deck below – the back and box design have a slightly different look. The poker deck features courts without borders to make use of the wider canvas (card size) – along with small adjustments to indices and other elements: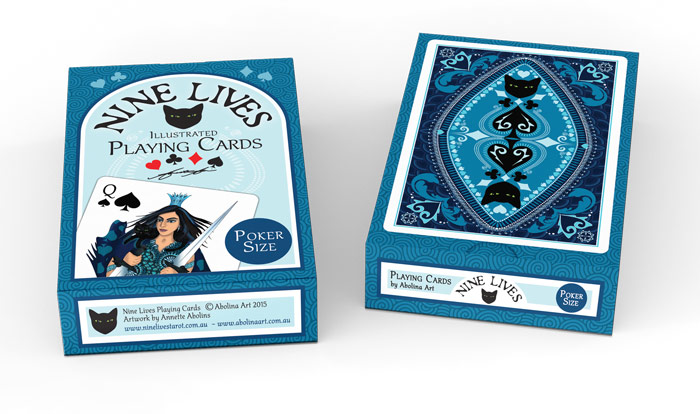 Box and back design for the poker size deck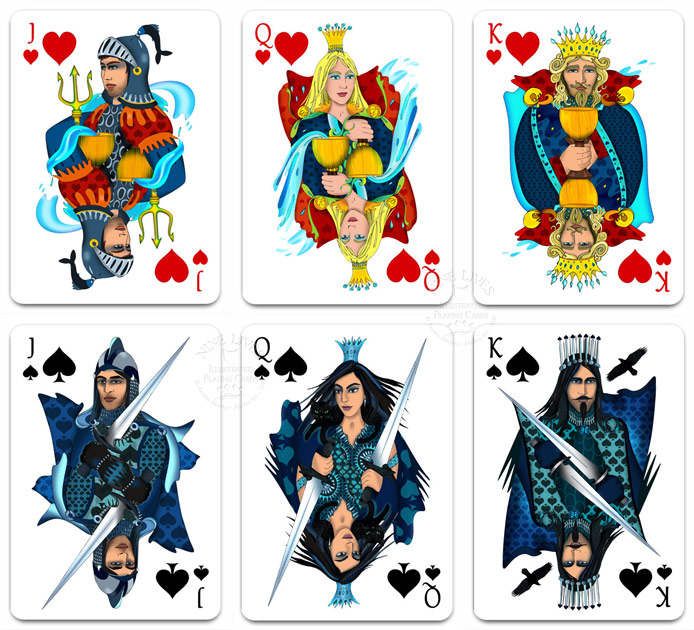 Court cards – without borders
Thank you for visiting and take care
Annette :)