Get ready for the launch at 9pm tonight! (AEST)
If you visit before the campaign officially goes live, don't worry – we're just getting everything ready.
The link above will take you to the live page as soon as we launch.
 Features:
54 custom illustrated cards – poker size (63 x 88 mm)
Bold, colourful and intricate artwork
Printed by Legends Playing Card Company on Classic finish
Shipped by Gambler's Warehouse – FREE shipping within US
Synthetic tuck box – amazing and super durable
2 Colour versions – identical faces, different back & tuck (blue deck is a stretch goal).
What is Kickstarter?
For those of you who haven't come across Kickstarter before, here's a quick introduction:
Kickstarter is a large crowdfunding platform where creators can seek funding for their projects.
Kickstarter operates on the 'All or nothing' premise, meaning that a project is only successful if the funding goal is reached.
Backing projects on Kickstarter is easy, you simply select a reward level and pledge your support for the project – if, at the end of the campaign, the project has reached its funding goal, the amount you pledged will be deducted from your account.
Kickstarter enables creators to reach out to backers and seek funding before the project goes into production. Creators of a deck of cards can reach a wider audience, aim for a higher print run and better quality, which is good news for supporters :)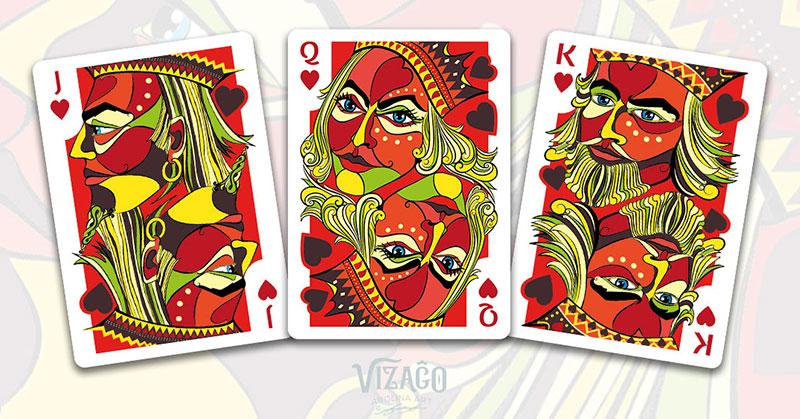 Spread the word and be part of the journey to bring VIZAĜO to life. From the bottom of my heart I thank you for every bit of enthusiasm you bring to this campaign!
Annette :)