I am showing new artwork in the group exhibition: DREAMS at The Art House in Wyong. You are warmly welcome to visit throughout March: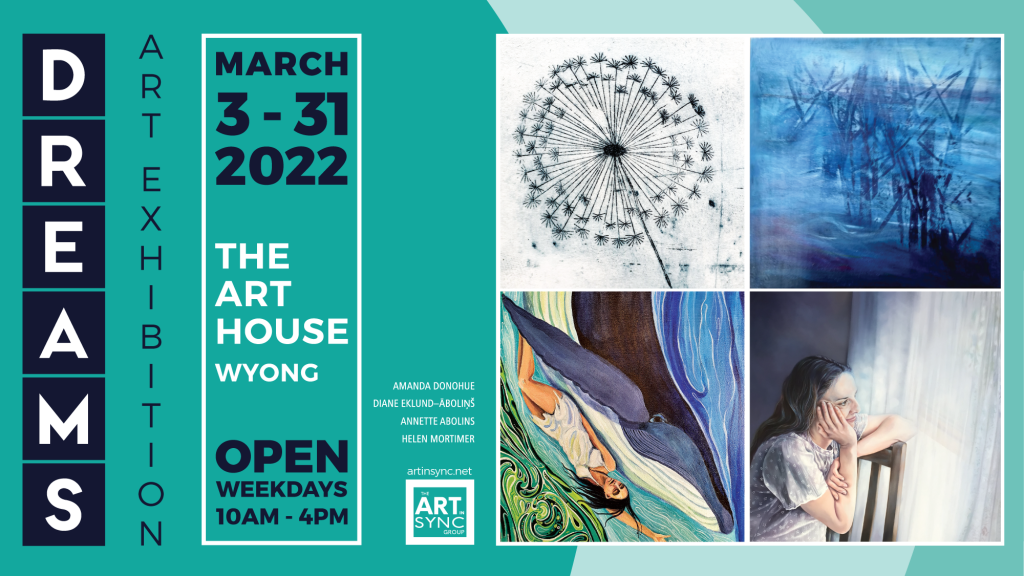 Hanging Day
Last Thursday, the four members of our little art group braved the deluge of the recent severe rain storms and set forth on yet another adventurous hanging expedition. Although we have exhibited together for over ten years, we always seem to marvel at how well all the work comes together on hanging day. This time, we had fabulous ladder assistance provided by Lynton, who climbed up to secure all the hanging hooks, making our job a lot less precarious (even leaving time for a coffee break).  A big thank you to everyone at The Art House, who are just wonderful, professional and always make us feel so very welcome!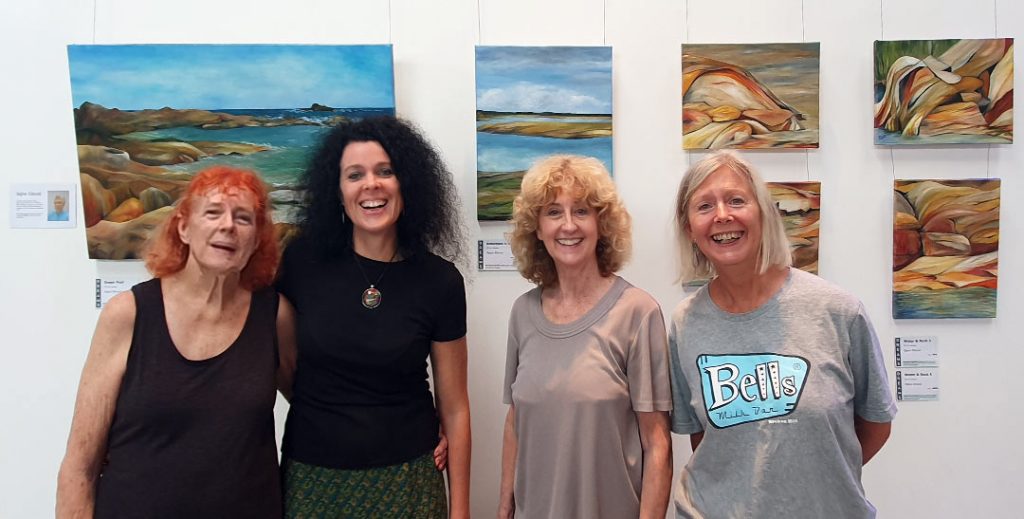 Hanging an exhibition is an exciting combination of closure and new beginnings… To me, it marks the point where the artworks are no longer 'in progress' and are free to start conversations, impressions and interpretations with new viewers.
The 2021 lockdowns and uncertainty of the past two years has affected everyone in so many ways. To finally see the works up on the walls at the gallery, makes this exhibition feel extra special. In addition, the inclusion of paintings by Signe, who sadly passed away shortly after our last exhibition, has given us all a sense of continuation with a beautiful person and artist.
About the Exhibition Theme
The theme DREAMS  is open to multiple interpretations and appeals to our collective thought of allowing each artist the freedom to create work true to her own inspirations, yet loosely connect to a whole.
Group statement: Our exhibition Dreams attempts to capture memories of some of those illusory images, or dreams, that fill our nights and even our days. Whether these dreams take the form of wishes as we blow dandelion seeds into the air, whether they allow us to briefly escape reality, or whether they grant us a few moments of quiet contemplation, they are always fluid, avoiding fixed interpretation. In the same way, our artworks are intended to inspire without any kind of boundaries or expectations.

A dreamer's interpretation – a preview of my paintings…
Dreams may be wild, confronting and surreal, yet they also provide delightful escape from reality, filled with endless possibilities, insights and imagination. My paintings follow the dreamer's journey across visual landscapes; seeking to capture moments within dreams that can inspire and re-shape the waking mind.