It's been a while since my last update. The weather (we've had some!) and the busy month of May (with celebrations and exciting visitors) have kept me occupied … On the creative side, I've been busy completing my deck of playing cards, previewed in this post :)
I'm excited to announce that after almost a year and a half, the printing presses are finally running – and this little deck will now be available from this website and on Nine Lives Tarot in a matter of weeks!

Nine Lives Illustrated Playing Cards – Annette Abolins
The following images are previews from the four houses, the aces, the back design and the suit symbols. To read the story behind this deck, please visit this post on my Nine Lives blog: Nine Lives Playing Cards – Preview & Update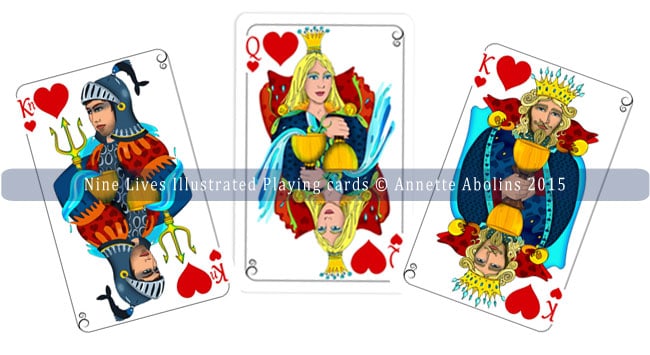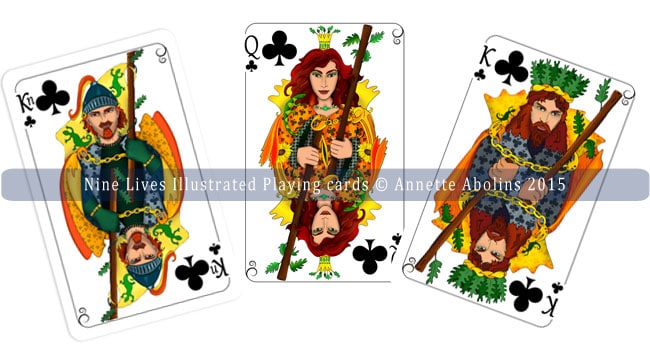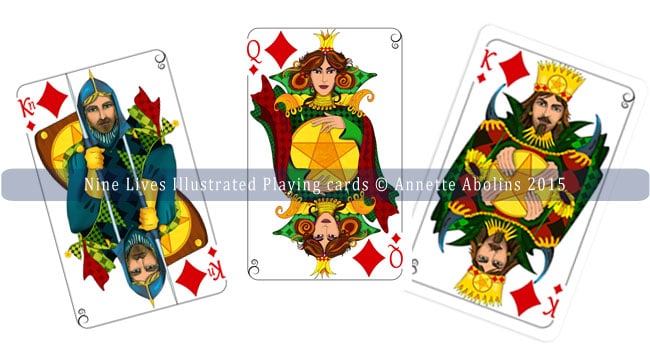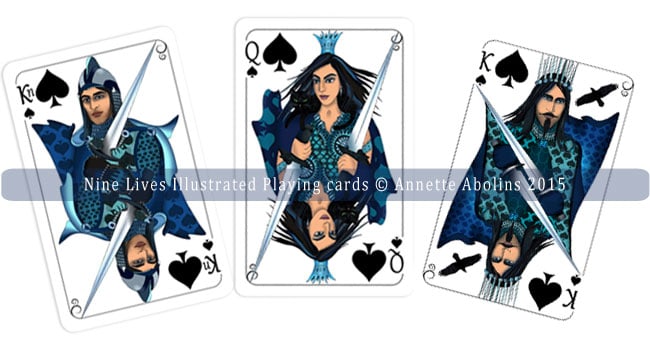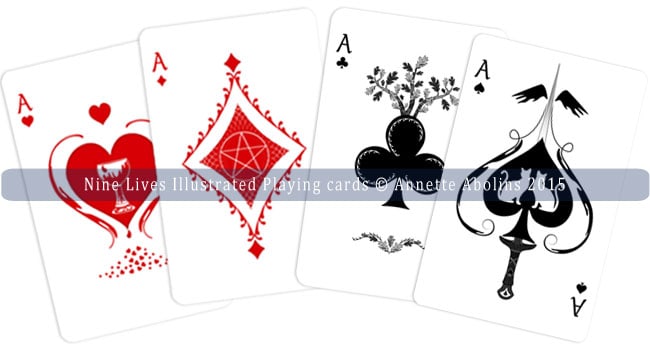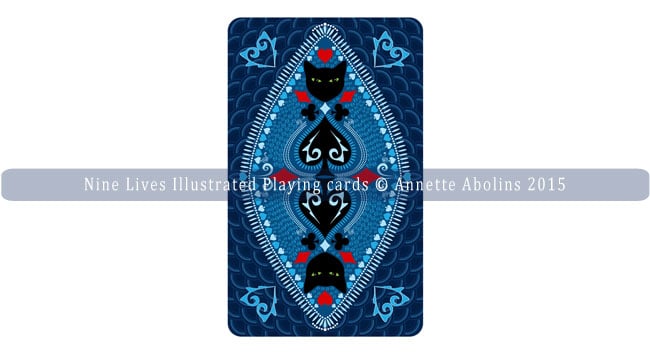 The delights and challenges of Self-Publishing
Before publishing Nine Lives Tarot I did quite a bit of research into options available to artists wanting to produce, print and publish cards. I looked at printers, publishers, crowd funding and POD (Print On Demand) companies. I requested print samples, looked through ToC agreements and case studies, as I aimed to build up a picture of what would work for the project I had in mind – and absolutely discovered that it really is a jungle out there.
My first experience included a portion of trial and error. This time has been a little easier as I've been able to draw on the discoveries from my first experience. If you are looking to publish your art on cards, the following overview may give you a heads-up on where to start :)
To be published or to publish?
While seeking to get published by a large company may seem like the way to go, especially if you have a deck you have worked on for a long time and you believe it will do well… It is important to note that most of the larger publishing houses have a long turn-around time (up to 2 years from submission),  and some of the smaller companies I looked at, state that they only 'publish' – they do not market or promote your wares… That said, there are many who have succeeded and have their art on cards promoted and sold around the world :)  If you have the time and the patience, and you get selected by a publishing house *I tip my hat to you* :)
Print On Demand companies, such as The Game Crafter (US) are absolutely a viable option if you live (and mainly sell) in the US. However, for those of us who live in other parts of the world, postage becomes a real drawback. The upside of POD is that once your project is live, customers can order without you needing to keep stock on hand to package and post … The downside is closely linked to the upside, as you don't get to 'meet and greet' your lovely customers :)
Crowd funding, such as KickStarter, is also a viable (and growing) option for many artists. Though it does require you to sell and ask for funding, before the project is completed (something I baulked at).
Self-publishing does have its drawbacks in higher printing costs (through small print runs) and more work on some levels. I still chose this option over others – as it gives me more control over the end product, and allows me to deal directly with my lovely customers, which is always a nice aspect.
Card packaging and add-ons
In the past, a LWB (or Little White Booklet), was simply a folded piece of paper, or small stapled booklet, which included an introduction and/or card meanings, slipped inside the box of the deck you just purchased. Today, larger publishing houses (such as Llwellyn, US Games & Schiffer) promote Tarot, Oracle and Playing cards with a full colour book or booklet, or for playing cards, a booklet and double deck – packaged inside a larger-than-life fancy box.
While I'm not in a position to do the 250 page book and big flat box presentation, I do like to present my cards in a nice and personal way.
With Nine Lives Illustrated Playing cards, your deck comes in a custom designed box for protection. Accompanying the deck is a a folded card, which includes a little introduction about the cards: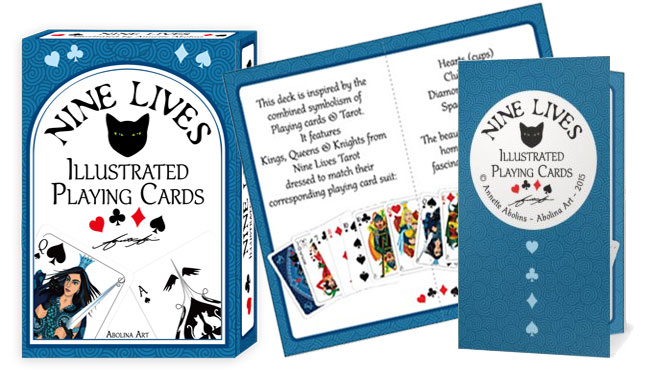 The set will be delivered in a little colourful bag to keep everything nice and snug during travel. :)
Thank you for visiting, and stay tuned for the launch!
Annette :)