The printing presses are rolling at Legends Playing Card Co. and VIZAĜO Playing Cards are expected to be ready for shipping (from the printing factory) first week in November.
2200 decks are coming off the presses, which makes for an impressive number of colourful playing cards – and the largest number of decks I've ever had printed. There has been so much to learn and discover along the way, right down to estimating lead times and figuring out when to do what; a truly exciting journey!
Print Proofing
While colours on a screen are always going to be slightly different to printed colours, proofing is more about making sure that the translation between the two formats works well, and to double-check for any errors that may have slipped through unnoticed.
Legends supply both digital and physical proofs before going ahead with the final printing. This is really amazing (and I'm told quite unique in the world of playing card printing), especially as the physical proofs are printed on the same press that is used to print the actual decks. The photo below doesn't do them full justice, though I can assure you that the colours are really amazing! :)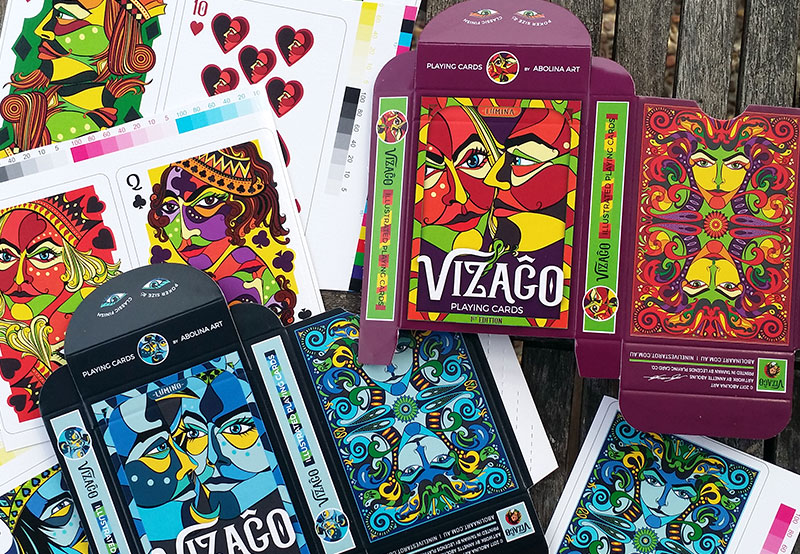 Colour-matching helped by Legends two-step proofing
The printing factory suggested switching the background colour on the tuck boxes to a Pantone colour (instead of CMYK) for better printing results. Anything that will produce better results sounds good, so I agreed and supplied the two colours I wanted to use.

Between digital and physical proofs and a sea of emails, a slight misunderstanding resulted in part of the background being filled with a different colour. Legends were fantastic in resolving this hiccup and even supplied a second set of digital proofs before going ahead with printing:
Seeing first-hand the great care Legends take throughout the pre-production phase, I feel excited and confident that VIZAĜO will be brought to life in the best possible way :)
Postcard Prints
During the campaign I offered sets of VIZAĜO postcard prints as an add-on.  Each set includes 20 cards (nice large size) with all 12 courts, 4 aces, 2 jokers and both (red and blue) card backs. I'm super pleased with how they turned out: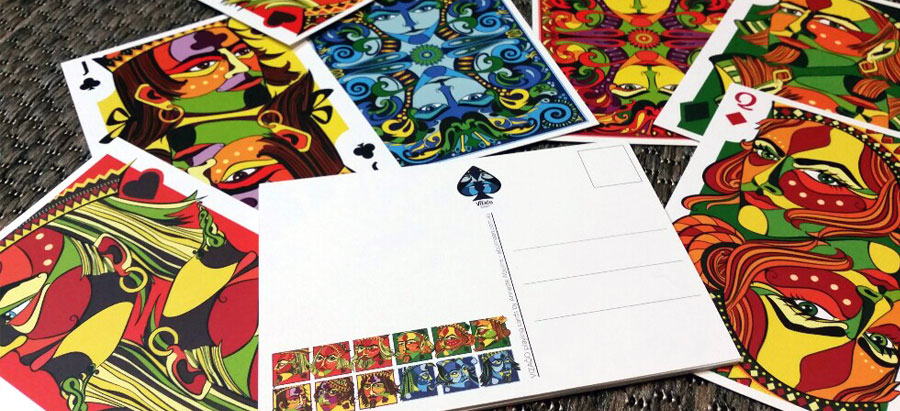 Once the campaign is fully delivered, a few of these packs will be available in my Nine Lives Shop where you will also find my tarot and playing cards, along with VIZAĜO when they arrive :)
Pre-orders closing soon!
I set up a pre-order page for those of you who want to get your hands on VIZAĜO decks at the special campaign price. The page includes a pricing guide and once I receive details of your order, you will be able to complete payment securely through PayPal. As these decks will be distributed by Gambler's Warehouse, along with the campaign rewards, pre-ordering will close on the 31st of October.
And if you prefer to wait until the decks are printed and ready, VIZAĜO will be available on Nine Lives in the not too distant future :)
Thanks for visiting and all the best,
Annette :)