What does your artistic journey look like?
Do you have a straight path, a meandering track full of detours, or a journey with many stops and starts?
An artistic life or journey can take on so many different forms. Your journey may be about getting in touch with a more intuitive, side of your personality… Or it could be about emotional healing; where paint, colours, texture, paper and canvas can do the talking where words may stumble or falter. Art can be a way of life, or it can be a random discovery – a meeting along the way, which you may delight in for a while and then take years to rediscover… No matter which road you take – a journey with art is bound to move you on a personal level.
A recent contest on Deviant Art inspired me to explore this fascinating topic, and in this post I thought I'd share the entry I submitted:
My Artistic Journey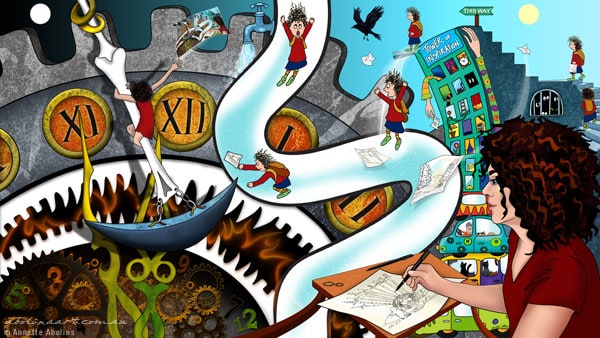 My artistic journey is an intrinsic part of my life; sometimes it is a joyride, other times it takes me on whimsical detours of discovery… Art enables me to express, explore and better understand the world I live in; where the journey for me is about telling visual stories to connect with the world. Easily distracted by life's many inspirations; I find myself often bargaining with Time Lords, as I try to avoid the burning flames in the maw of Time; also known as deadlines.
Describing the Whimsical Path
I included the description above with my entry…  and now I'd like to invite you on a visual tour through the ideas in my artistic journey entry:
I'm at my desk drawing – the 10 of Swords is part of a collaborative Tarot deck I'm working on with a bunch of lovely artists on Aeclectic Tarot Forum, so it felt only right to include it in this journey – 'Little me' represents the easily distracted, wandering aspect of my self, as it walks my mind up the Tower of Inspiration… This tower has a lot of windows, where each one offers something new to be discovered: the creepy, the hidden, the innovative, the strange – connections where a watering hose leaps from one window to another… Stories enclosed in books on a window sill, a cat that sees it all… A pile of quirky, colourful cars support the tower, these cars represent movement and association; the mind-travel and the leaps of imagination, where my kids peeking out of a back seat window, and more cats, are an inspiring part of the journey… Sketches flow from my drawing book as day turns to night and I fall into the pipeline with the realisation that time is, yet again, running out. I refocus, frantically working through the night as my mind swings on the pendulum, taking me perilously close to the maw of time, where the cogs are moving and falling in the flames seem inevitable…  The finished piece is within my grasp as I beckon with the Lords of Time to give me just a few more minutes PLEASE!!
Last minute capture and delivery is part of the thrill, so all is well that ends well :)
The Deviant Art Contest
Deviant Art in collaboration with The Art Institute invited artists from around the world to visually describe their artistic journey. Entries could be in any medium as long as the completed artwork incorporated one of three 'pipe' shapes running through the centre of the image. 50 entries will be selected to be used in a rapid fire animation showing artistic journeys connected via the 'pipe' shapes used in the artworks. From the 50 semi-finalists, the judging panel will select 3 entries to represent the top 3 places (with some pretty delicious prizes to follow).
The Constant Juggle with Time
I worked on this entry in between other jobs, all while the countdown clock – unmissable on the DA submission page – announced the reduction in days, hours, minutes and seconds as it hurled towards the closing deadline. I found the clock a fitting visualisation of my constant struggle with TIME… and couldn't help making the animated gif below ;) (Note: you may have to refresh the page to see the animation as it only cycles 3 times).

Deadline countdown on Deviant Art
Thank you for visiting
Annette :)