While I am eager and most excited to complete the final stages of VIZAĜO, a slight problem with a broken finger has forced me to be patient for a few weeks, something I struggle with on the best of days… Yet attempting to clamber up rocks on a bushwalk was so hilariously silly that I'm just going to have to deal with a bit of healing time :)
Having discovered that typing is slow though most doable with two fingers strapped together, I thought it could be fun to look back at the illustration process on my now almost complete deck of cards.
From Idea & Inspiration to Drawing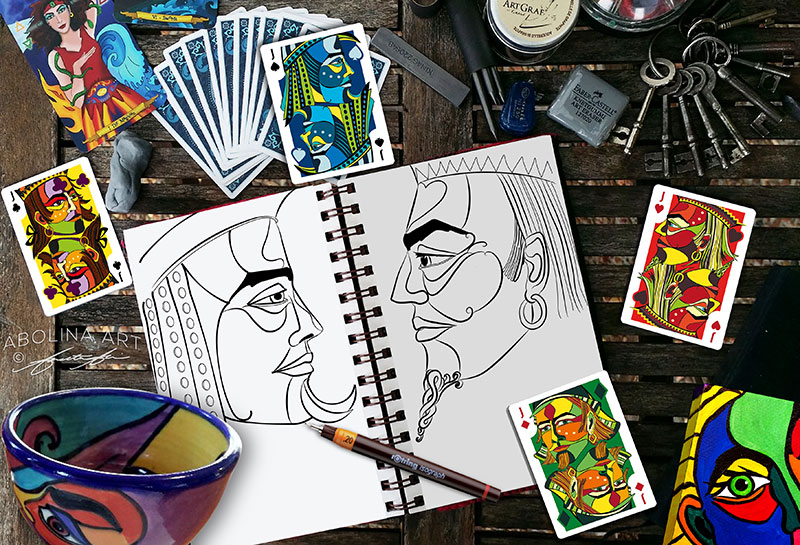 A bowl, a painting, keys, cards & drawing tools
Some of the early ink drawings for VIZAĜO appeared in posts at the start of this journey. Here, the drawings have been cleaned up, ready for painting – and and are surrounded by things that inspire, along with drawing tools and previews of the cards in colour…
A very hot photo shoot …
We're in the middle of a heat wave here and with a hot wind blowing (think hair dryer), it was an interesting challenge to keep everything in place on the small table I used (outside) to take the photos, especially as Filemon the cat was most eager to be involved …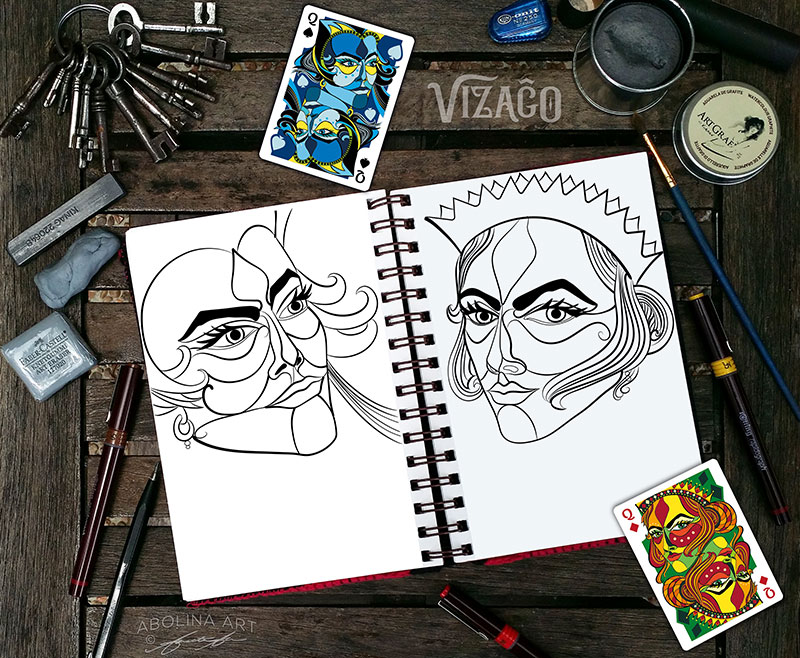 My favourite drawing tools are …
The ink pens I use are rOtring Rapidographs (I adore these pens!), the ink is super black, which I really like … and they feel just lovely to work with. They're not cheap but they do last a very long time (the only one I had any trouble with was a super fine 0.13mm nib, which is quite notorious for clogging up). I use these pens for everything from line drawings, like the Queens above, to intricate and detailed drawings, like the ocean scene below: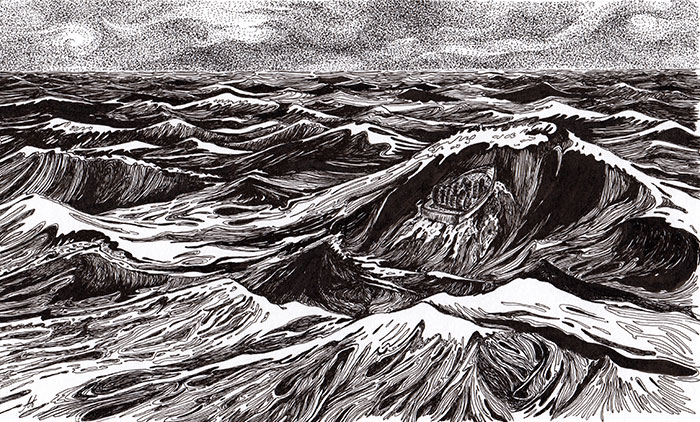 Drawing hair and beard
The King and Queen of Clubs both have curly hair, which was a lot of fun to draw. As was the beard on the King of Hearts …Starting with a feint pencil sketch, which helps me work out the size, form and start of the drawing. I then ink over the top and keep adding more detail as I go. Soft (kneadable) erasers comes in handy to remove pencil lines before scanning, I prefer them over the hard erasers, because they don't lift the ink or wear the drawing paper.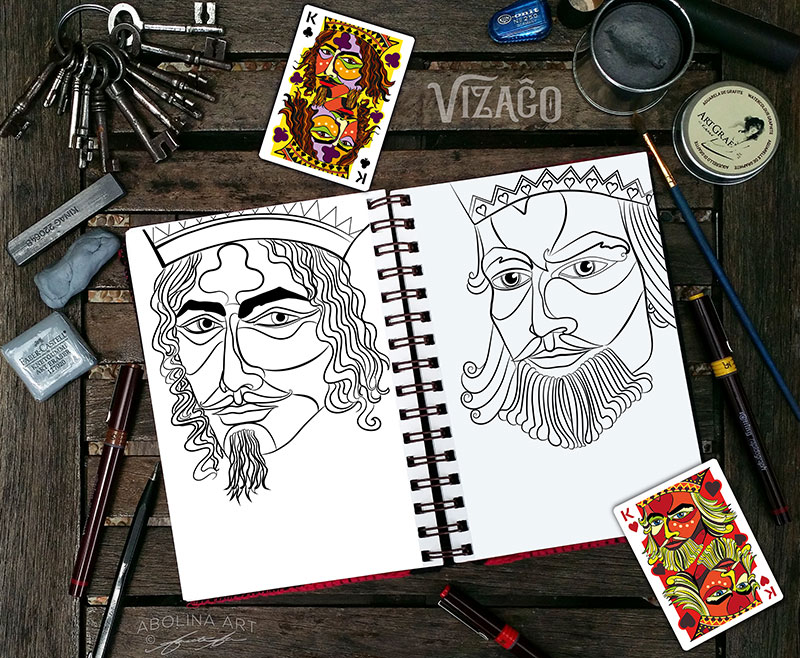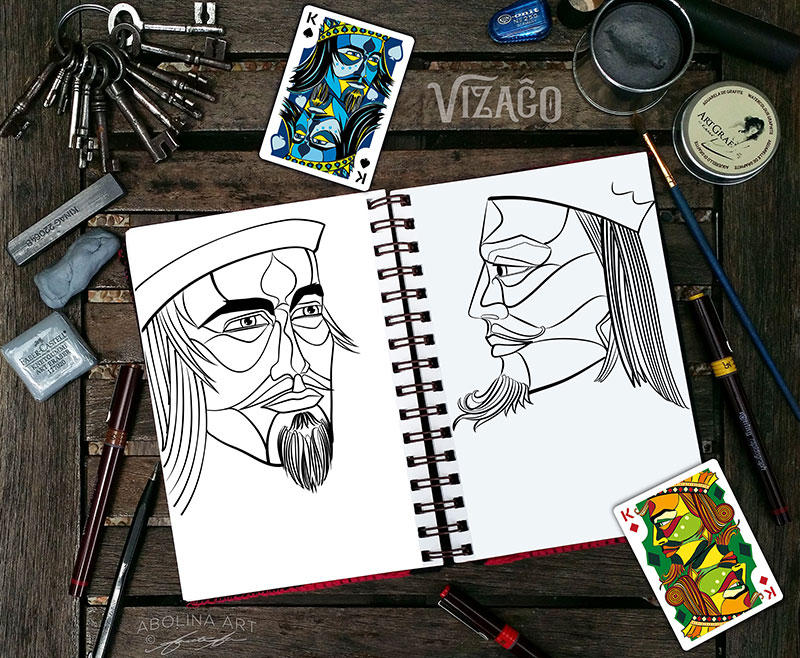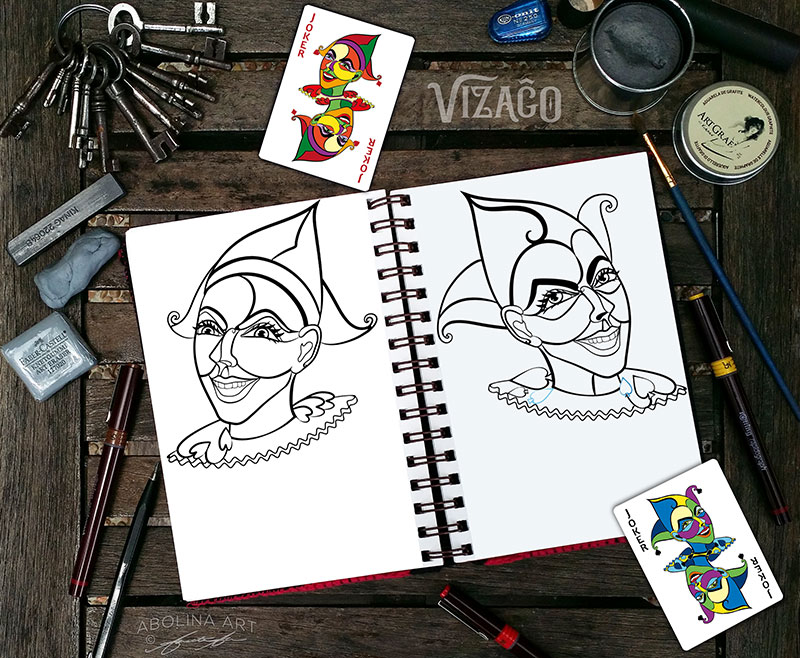 Jokers and Keys …
Ending with the two Jokers on the drawing board – and a little heads up to explain the keys … I find old keys both mysterious and inspiring (these came from the farm where my husband grew up) each one has a door, which only it can open … I like the association that keys can unlock creativity, new discoveries and exciting ideas along the way.
I hope you enjoyed this visit to the drawing board – until next time, take care!
Annette :)