Representing Fairness and Truth
Justice started as a pen drawing on a plane several months ago, she travelled the world in pen & ink state, while colours slowly took form in my mind.
Justice ended up having to be very patient with the last few months being so hectic with work and life. She sat there in my sketchbook waiting & waiting… I only just found the time to start painting her, by which time she was probably starting to lean towards inJustice…
The Sword & Scales are both traditional symbols of Justice, I incorporated the book and the two ravens to illustrate both gathering of wisdom and the ability to look further afield to see the 'whole picture' (ravens are wise and have very good eyesight). On a side note; Odin, the Norse God, sacrificed one eye to acquire the sight of ravens, giving him the ability to see not only far within this world, but also into other worlds and times – the past and the future.
I don't think I will leave the next card (death) quite this long… :)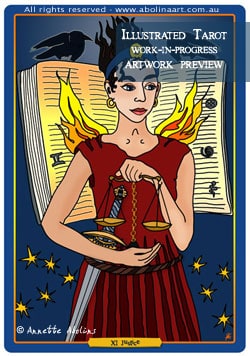 Stay well & thanks for visiting
Annette :)