Tattoo – T-shirt
A tattoo challenge on RedBubble had me inspired to slightly redesign 'sea sisters' and enter it in the competition. The brief was to 'design a tattoo even your mother would love…' Such fun :) To avoid mothers going into a flap, the designs were to be presented on t-shirts rather than skin. I had planned to do a second one (you could enter 2 designs), but ran out of time and only remembered to enter this one with hours left on the clock: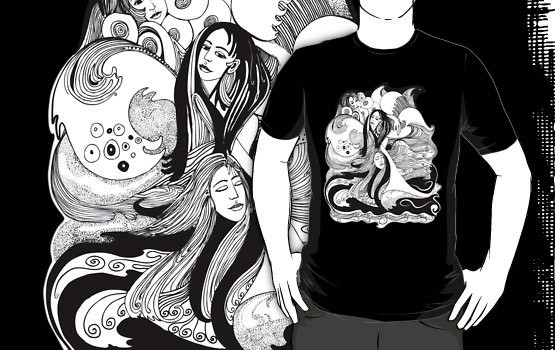 Flowers
I'm absolutely loving my new pens :) – here's a drawing of some flowers where I played around with cross-hatching:

Tarot
I dream of tarot cards, I think about their visual meaning while doing laps in the pool, ideas and imagery pops into my head at strange times prompting me to run versions, questions and thoughts past everyone in the house – pretty much asking the artist's version of  'does my bum look big in this?'… as I draw, paint and live my way through each card. It truly is a fascinating project, which has evolved as I've worked on it, and it's nice to be back on track and drawing, after having solved the size and border dilemma:

V – Rods  is about the battle of ideas, and voicing opinions through fiery debate, though it isn't the full on fight (you can see that the rods aren't bashing into arms, heads or other extremities, they're just knocking into other rods).
Thank you for visiting
Annette :)