It is always exciting to discover a new drawing material … A few weeks ago I was on a mission to redeem my loyalty points at Eckersley's, when this stylish looking ArtGraf tin jumped out saying 'pick me'! I hadn't seen or tried watercolour graphite before (other than the water-soluble pencils), so I thought it would be fun to try … With two sizes to choose from (20 and 60 grams), I ended up ordering the larger one to be on the 'safe' side :)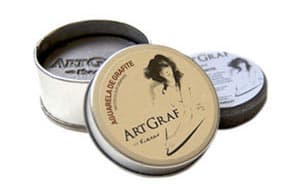 A week later my parcel arrived … the 60 gram tin is bigger than I had expected, which was a nice surprise (photos can be deceiving). The tin itself feels quite durable; the lid is easy to open and close – and the width (around 55mm) allows plenty of space for different sized brushes …
Painting with Graphite … So, what's it like?
So far, I've only done a few quick sketches, though I am already loving it! The watercolour graphite is quick and direct to work with and seems perfect to combine with other mediums:
Pen & ink – I have tried this and it works well
Pencil Graphite
Colour (watercolour, acrylic, coloured pencils), and …
The round block of graphite sits in the tin, and its simply a matter of wetting the brush and swirling away on the block to get the shade you want – from very light to almost black. In many ways it is similar to working with an ink wash, though the feel and texture of the 'paint' is a little different.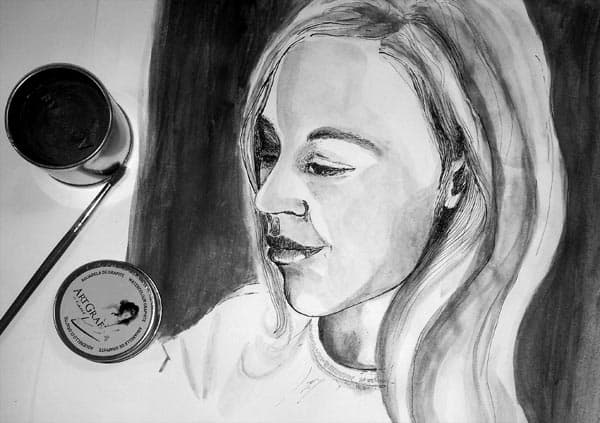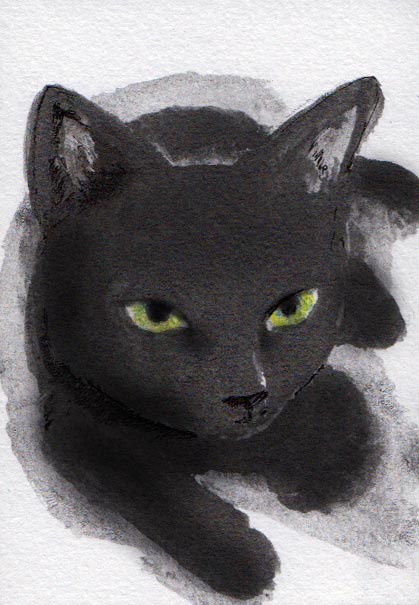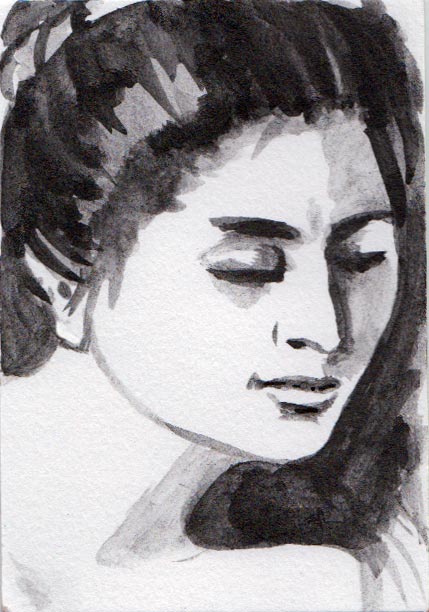 Pencil Graphite vs Watercolour Graphite
While the two do have similarities in both tone and feel – they behave quite differently. Using graphite for both drawing and painting can be an exciting way of achieving varied results based on the different qualities of each medium:
Graphite pencils (wood-less or encased) and thick graphite sticks allow you to blend and soften tones by smudging (using fingers or stomp). You can also use a soft eraser to remove or lighten parts of a drawing.
Watercolour graphite behaves more like ink wash. When it is wet you can use the brush to blend or 'move the paint around'. Once the graphite has dried it is quite stable and won't respond to smudging or erasing in the way that the pencils or sticks do. I tested both smudging and erasing to see what would happen; neither had much effect.
Despite the more 'stable' nature of the dried wash, it's still a good idea to use some sort of fixative on any artwork you want to preserve or protect.
That's my 'newest medium' wrap for the day … You might be interested in trying it out; if you like ink wash, I think you'll enjoy this one too. If you already use watercolour graphite and have ideas or comments you would like to share – I'm all ears :)
Thank you for visiting and take care!
Annette :)