Technical drawing pens were originally developed for architects and engineers (for precision and all that jazz to do with rulers, compasses and drawing straight predictable lines), though today they are mainly used by artists, draughtsmen and comic artists, who have fallen in love with the lure of permanent black ink and the blissfully predictable lines achievable with these pens.
Deciding to finally get a set, I went on a research journey, which took me through a maze of pen addict forums, suppliers, reviewers and a few shady, cross-hatched and stippled places… all providing plenty of information about pen types, how they work and what various people think of them. Summing up:  rOtring make really good pens, Faber Castell (TG1-S) and Staedtler (Mars Matic) also make good pens – Koh-I-Noor, while a recognised brand in the US, appear to have clogging and other not-so-great issues (so I quickly dropped them from the list).
I decided to go with rOtring, yet (like in all good stories) discovered one last hurdle: rOtring offer two different types of technical pens: The rOtring Rapidograph, which uses cartridges – and the rOtring Isograph, which you refill from an ink bottle…
I ended up buying the Rapidograph (cartridge version) from the lovely people at Cult Pens, upon reaching the conclusion that I am way too messy and impatient to refill pens from a bottle. Added to that; part of the joy with a great pen, is that it is ready when I am… the thought of having to clean it, fill it and pat it on the head before we get started is cute, but a little inspiration-stalling…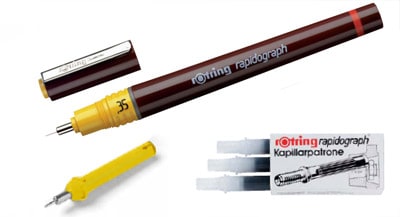 The parcel arrived yesterday and I almost hugged the postman :)

I love the way the top part of the pens are colour coded (makes it so much easier to find the right pen…)
The image above shows the line-widths of each pen – the finest one (purple) is only 0.13 mm and a lovely pen to draw very fine lines with, the thickest one (blue) is 0.7 mm and perfect for darker thicker line-work.
One of the main points to make about these pens (any fine drawing pens really), is that you should keep the pen close to up-right while drawing (i.e. not on a sloping angle as you perhaps would when writing a fancy letter). The reasons for this are:
Holding the pen in the up-right position, means that the ink flows better because of the mechanism inside the actual nib.
You avoid damaging the nib (especially on the finer sizes) 
While these are my first technical pens, having used plenty of steel-nibbed drawing pens, meant that the drawing angle was not a problem :)

I quickly embarked on my 'first' drawing – the first few lines felt a little shaky (excitement no doubt), but very soon the pens felt simply fantastic!  It's a little like getting used to a new car where you're working out things, like how fast you can go around a bend before it all gets a little hairy ;) With these pens it's more about how fast can I draw a line before the ink-flow is interrupted…. watching the ink flow… and… relax :). So far, they seem very reliable, and stippling (lots of dots) is much easier with these pens; less hammering on the paper, because the ink is simply just 'there' when you need it to be.
I'll post a few drawings in my next post.
Thank you for visiting!
Annette :)