I have to say it is refreshingly messy to bring out the oils! After a period of digital painting and illustrating, the past two weeks have landed me in a sea of paint and turpentine …  discovering that no matter how hard I try, I always end up with paint 'everywhere'. The inspiration (and urgency) to paint, has a lot to do with that the art group I am part of has two upcoming exhibitions (later this year and early 2016).
Our art group has been exhibiting together now for almost 7 years, you can read more about the artists and our previous adventures on:  The Art in Sync Group.  The upcoming exhibitions are about Water and the many different ways in which we are affected by this inspiring and most important substance.
The Ocean & Ships …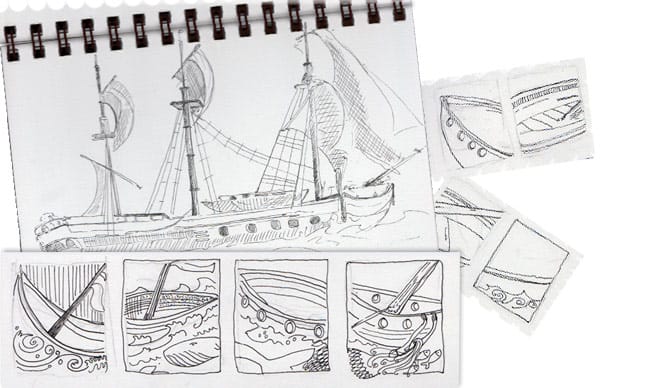 Armed with tubes of oil paint, mineral turpentine, Damar varnish, plenty of brushes and an inquisitive cat – I set to work on my mission to capture stormy weather, majestic and mythical encounters with the promise of new horizons …

Starting a painting is (for me) about figuring out how to get the image in my head onto the canvas …
I like to work on several paintings at the same time, because I can switch between them and give the paint some time to dry (a little) before continuing … The  first layers of paint tend to have a fairly 'sketchy' look about them, though once the overall idea feels more 'in place', l will move on to adding more depth and detail… with updates to follow :)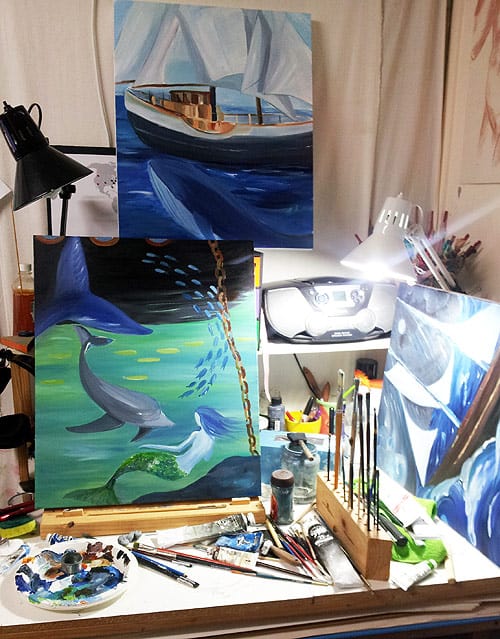 Delving into detail with pen & ink …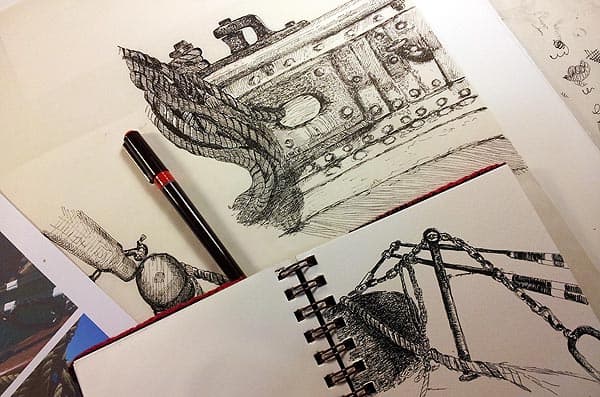 I am also working on pen and ink drawings, inspired by old photographs, memories and visits onboard tall ships … Sails, wood, steel, ropes & pulleys, nuts & bolts … things that really do make this girl go 'ahhhhh' :)
I inherited my love of the ocean and sailing ships from seafaring folk in my family … As this post is about the beginnings of a body of work, the inspiration behind the work is very much at the surface, which is why I thought I would share some stories from the past …
Connected by Ships and Oceans
My great grandfather Carl was a sailor. He went to sea as a young boy, a few years after his father tragically drowned aged only 33.  Carl spent several years at sea before enlisting as a Seaman onboard the Garnet Hill.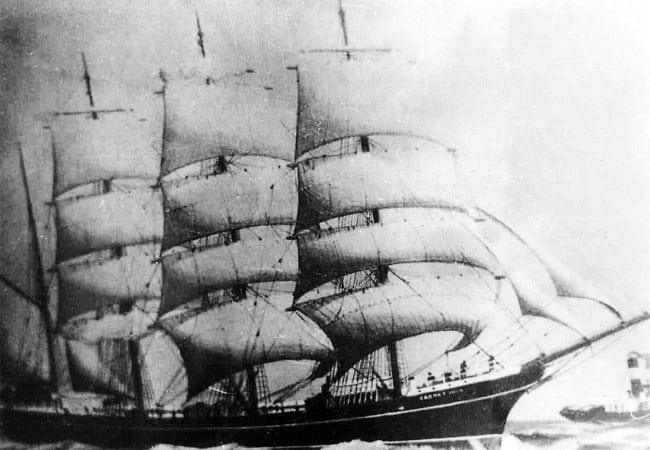 This four masted steel barque worked the wheat and nitrate trade between Australia, South America and Europe. Life on-board involved many days between ports, hard work and often harsh weather. There were no safety harnesses for seamen climbing up and down the masts, especially dangerous during storms or when rounding the infamous Cape Horn  …  Part of the route was later nicknamed the 'Grain Races', as ships sailed loaded with wheat from South Australia to South America competing to reach their destination in as short a time as possible.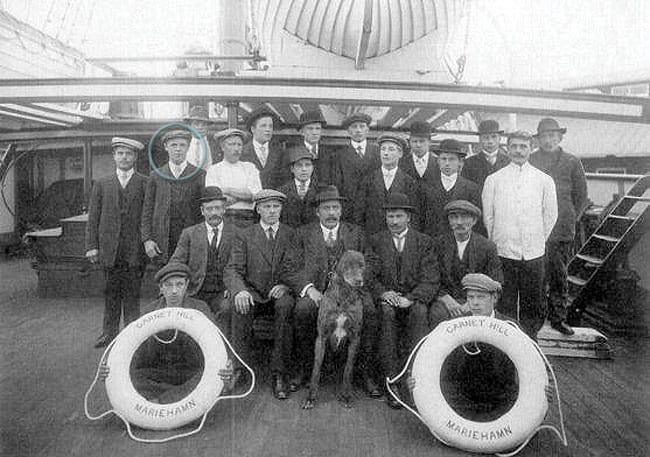 The Garnet Hill and Crew in 1912 – photo above sourced from Jukka Mikkola
It was exciting to discover this photograph on a website about Finnish and Ålandian ships, which shows Carl (young man on the left, circled)  shortly after he signed on as crew on the Garnet Hill.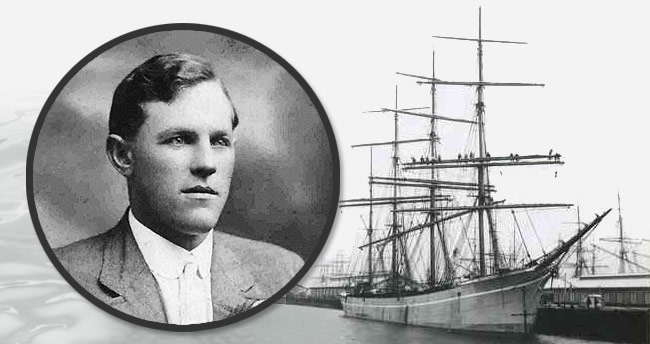 Despite the formal appearance of  'Shipping News' in old newspapers, it is easy to imagine the anticipation in port for anyone awaiting a ship's safe arrival. Before television and internet; daily newspapers (and possibly radio) were the only link to ships, crews and passengers at sea… A single line notice declaring that a ship was due in port, carried more substance and meaning compared to many sensationalist and often fabricated 'stories' making headlines today.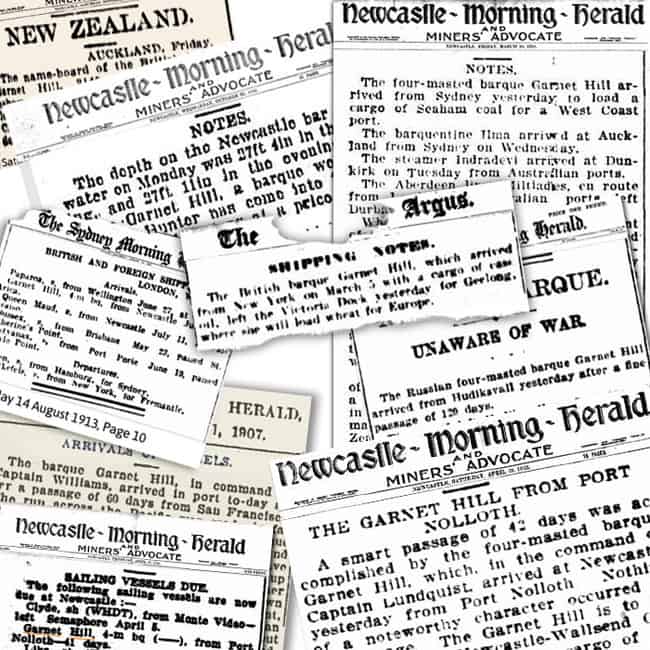 Our Irish ancestors migrated to Australia onboard 'The Queen of England' in 1854-55. The voyage took 90 days, and resulted in the youngest member of the family being born on route …

My grandfather Paul, took after his father (Carl), and was also a keen sailor. He spent many years building his own boat in the backyard, a 32 foot steel yacht – which he then sailed for over 30 years. In the 1960s he also crewed on a friend's boat in the Sydney to Hobart Race. This race of wind and sails departs from Sydney on Boxing Day each year and crosses Bass Strait to Tasmania, in waters renowned for high winds and difficult seas. Back then, it was a slightly different race compared to the more commercial event it has become today…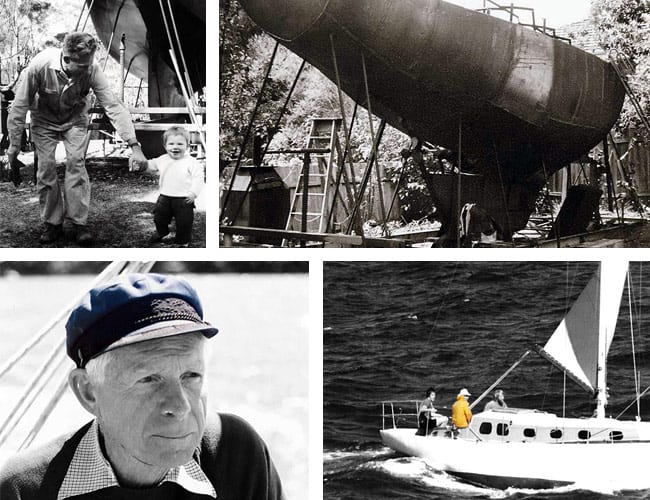 It is worth mentioning that there are times when seafaring is less about choice and more about necessity. My father (barely 9 months old) and his family were refugees during WWII. They fled their homeland in a small fishing boat with no belongings and an uncertain future on the horizon. Their experience brings home the plight of the many refugees today, and the importance of providing humanitarian solutions and shelter for those in need.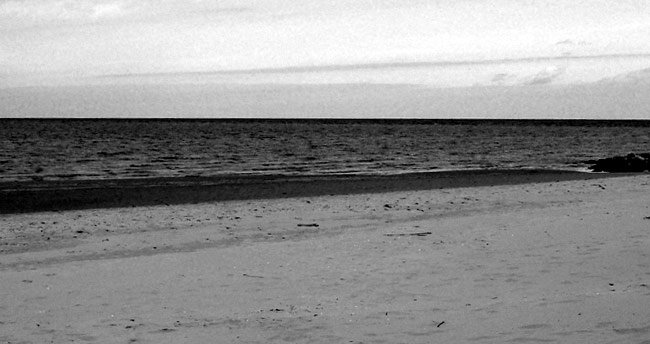 Tales of sea faring, majestically beautiful tall ships and ever changing oceans continue to fascinate me, and keep the dream alive that, one day, I will crew on a tall ship – even if it means convincing the volunteer crew on the James Craig to take me on as their mascot :) Rolling waves, wind in hair and hoisted sails promise adventure … along with the sense of a being 'home'.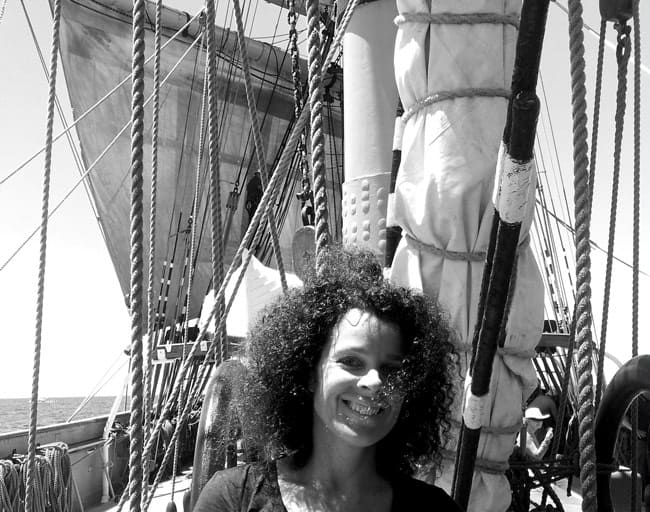 While the dream lives on, I hope to capture part of it on canvas and paper.
Thank you for reading and take care
Annette :)