Upgrading Sketchbook Project
My 2013 Sketchbook is now sailing across the sea to the Brooklyn Art Library at the Art House Co-op… Before I post the drawings, here's a little post about the re-binding I subjected the book to before I got stuck into drawing.
Based on my first experience with the sketchbook sent out by the Art House Co-op, I decided it would be worthwhile replacing the rather flimsy paper with something more sturdy (at least thick enough to prevent pen & ink drawings from bleeding through to the next page)… The re-binding was quite straight forward – and it made a big difference to draw on the thicker paper :)
There are lots of ways to bind a book, this is a simple quick way to make a sketchbook. Just keep in mind that a book (depending on paper thickness) has a limit to how many pages it can manage on a single fold; for a larger (thicker) book, use multiple folds and stitch these individually before stitching them together and attaching to the spine.
Bring out the tools …
I used 2 large (roughly A1 size, probably a bit bigger) sheets of good drawing paper laid out on the floor for easy measuring and cutting.
Before I started cutting, I measured the original paper size in the sketchbook (I did this a few times, to make sure ;)).
After the pages were cut, I folded each one in half and put them all in a pile.
To avoid the centre pages sticking out, I trimmed the outer edge with all pages folded together (otherwise the pages towards the middle end up 'bigger' as they don't have as many pages to fold around).
A 5 cent piece, a pencil and a pair of scissors were used to cut the rounded corners.
I added the thicker cover page and clamped the 'book' open at the centre fold.
Hammer and nail were used to make small holes down the spine in preparation for sewing.
Finally, I used needle & thread to sew the pages together down the centre spine: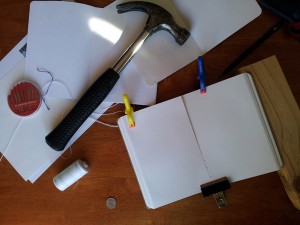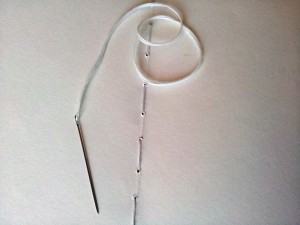 Annette :)