I like tarot cards, mainly for the images but also for the symbolism and mystique surrounding the deck of cards, which can help decipher or further muddle the things we already know :) My tarot cards have been with me for over 20 years (ouch), though I still remember finding them in a small shop in Sydney & falling in love with the illustrations (by Morgan-Greer). A number of years ago my sister made her own tarot cards, I can't remember if she did the full deck (78 cards), but she certainly put a lot of work into them, using family members and herself to represent the different cards.
All of the above inspired me to go on a bit of an illustration journey: Draw each card in the major arcana (22 cards) as a different aspect of myself. I know it's a bit of an ego trip, but after 2 cards I'm really enjoying it. I figure I can clad the ego trip in justified clothes by saying:
I'll get lots of practice and will hopefully learn new things
I'm working in mixed media as each drawing is pen & ink and then scanned & coloured
I need to work on all 22 cards 'belonging together'
It's an opportunity to wear a different outfit each day :)
Starting from the beginning I've done 0 – the Fool, and I – the Magician.
The originals – pen & ink drawings:

After I'd drawn "The Fool" I realized that to me, she's running the wrong way (running forward, towards the future, is to the right for me, whereas looking or moving towards the past is left)– so I flipped her before beginning the painting process in Photoshop.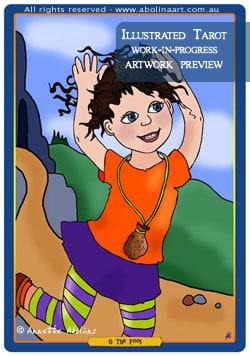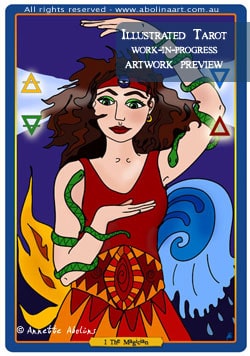 Meanwhile the dragon is resting… :)
Annette :)